Nationally Ranked in Gynecologic Care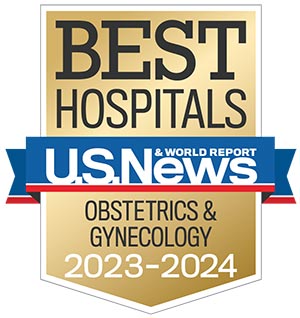 Inova Women's Hospital has a commitment to providing the highest quality gynecologic cancer care throughout a woman's lifetime. Our multidisciplinary team of gynecologic oncologists, radiation oncologists, radiologists and pathologists coordinate the best care for each patient from diagnosis to treatment to monitoring for recurrence.
Inova Fairfax Hospital is ranked among the top 20 in the nation by U.S. News & World Report for obstetrics and gynecology. This ranking recognizes Inova's excellence in outcomes, comprehensive services and patient satisfaction ratings.
Inova Fairfax Hospital has also been rated as High-Performing for Ovarian Cancer Surgery.
---
Cancer is made up of abnormal cells that grow even though your body doesn't need them. In most cancers, the abnormal cells grow to form a lump or mass called a tumor. If cancer cells are in the body long enough, they can grow into (invade) nearby areas. They can even spread to other parts of the body (metastasis).
Women treated early by a gynecologic oncologist have twice the survival rates of those not treated by a cancer specialist. That is why the cancer experts at Inova encourage patients to seek our care from the beginning.